Gutters are essential for protecting your home in St. Johns County, Florida. They prevent water damage by keeping water out of your walls and foundation, saving you from costly repairs. In this blog, we'll discuss the significance of gutters in St. Johns County, the materials and designs to consider, and provide a list of top gutter service providers with real reviews from residents. We'll also share maintenance and cleaning tips to ensure the longevity of your investment. Additionally, we'll explore other measures that can protect your home and highlight what sets a gutter service provider apart in St. Johns County. Read on to discover everything you need to know about gutters and their importance in home protection!
Understanding the Importance of Gutters in St. Johns County, Florida
Properly installed gutters prevent water damage, channel rainwater away from the foundation, and protect siding and windows. Investing in gutters provides peace of mind and protects your home's value. Prioritize gutter maintenance to avoid major problems.
Role of Gutters in Protecting Your Home
Properly functioning gutters protect your home's foundation from water damage and prevent soil erosion. They also safeguard your roof, landscaping, windows, and doors from rainwater. Installing gutters is a proactive step in preventing structural damage.
Key Considerations When Choosing Gutters for Your Home
When choosing gutters for your home, consider material (aluminum, copper, vinyl), size, design (seamless), warranty, and professional consultation.
Material Choices for Gutters
When choosing gutters for your home, you have options like aluminum, copper, and vinyl. Consider the benefits and considerations of each material to make an informed decision.
Sizing and Design Options for Gutters
Properly sizing your gutters ensures effective rainwater management, while seamless gutters offer a sleek appearance and minimize the risk of leaks. Gutter guards or screens can prevent debris buildup, and consulting with professionals can determine the best design options. Customizable gutter accessories enhance functionality and aesthetics.
Leading Gutter Services Providers in St. Johns County, Florida
Revere Gutters Solution offers reliable services, while Storm Flow Gutters provides dependable and affordable solutions. Golden Hammer Roofing is a trusted contractor with excellent customer reviews. Choose a reputable and professional provider for your home's needs.
Revere Gutters Solution: A Top Contender
For a clean and efficient gutter system, trust Revere Gutters Solution. Their experienced team offers expert guidance on design choices and ensures customer satisfaction. They have a great reputation in St. Johns County.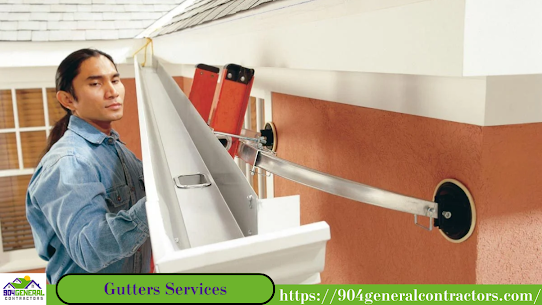 Storm Flow Gutters: Reliable and Affordable
Storm Flow Gutters offers budget-friendly gutter solutions that don't compromise on quality. Their expert team ensures durable and reliable systems, exceeding customer expectations.
Golden Hammer Roofing: More Than Just Roofing
In addition to their roofing services, Golden Hammer Roofing also offers professional gutter installation and maintenance. Their team ensures a clean and precise installation, along with exceptional workmanship and attention to detail. With a great warranty and a comprehensive range of services, Golden Hammer Roofing is your one-stop-shop for all your roofing and gutter needs.
Gutter Maintenance: Ensuring Longevity of Your Investment
Regularly cleaning and inspecting gutters prevents clogs, damage, and leaks. Consider professional services for efficient maintenance tips. Promptly address minor issues to ensure the longevity of your investment.
Regular Cleaning: Why It's Crucial for Your Gutters
Regular cleaning prevents clogged gutters, which cause water damage, pest infestation, expensive repairs, and safety risks. Consider professional services for proper cleaning and maintenance.
Spotting and Addressing Common Gutter Issues
Leaves and debris clog gutters, causing water damage. Promptly address leaks, sagging, poor alignment, and choose the right material.
When to Consider Gutter Replacement
If you notice visible damage, water damage, sinking gutters, aging gutters, or maintenance issues, it may be time to consider gutter replacement.
How Does Climate in St. Johns, Florida Affect Your Gutters?
The climate in St. Johns, Florida can have a significant impact on the functionality of your gutters. With frequent rain and humidity, debris buildup and clogging can occur. Additionally, extreme weather conditions like hurricanes can damage the gutters. Regular maintenance and cleaning are crucial to ensure optimal performance in this climate.
The Correlation Between Roofs and Gutters: An Integral Partnership
Properly functioning gutters are essential for preserving your roof's lifespan and protecting your home from water damage. Recognize the symbiotic relationship and integral partnership between roofs and gutters.
Ensuring Proper Downspout Placement for Effective Drainage
Proper downspout placement is essential for effective gutter drainage, redirecting water away from your foundation to avoid pooling and flooding. Achieve efficient gutter drainage through strategic downspout positioning.
Beyond Gutters: Other Home Protection Measures in Jacksonville
Explore additional measures for home protection beyond gutter maintenance. Consider professional roof maintenance, soffit and fascia, and multiple protective layers.
Importance of Roof Maintenance in Home Protection
Regular roof maintenance is crucial for long-term home protection, addressing minor issues promptly to prevent major damage. Don't neglect routine inspections, cleanings, and repairs for comprehensive home protection.
Exploring Soffit and Fascia: Additional Shields for Your Home
Discover the benefits of soffit and fascia for your home's protection. They provide defense against moisture, pests, and enhance aesthetics. Invest in durable soffit and fascia for long-lasting, comprehensive protection.
What Makes a Gutter Service Provider Stand Out in St. Johns County?
When it comes to finding a top-notch gutter service provider in St. Johns County, look for years of experience, seamless gutter systems to prevent water damage, a family-owned business committed to customer satisfaction, expertise in roofing and siding installation, and excellent reviews on Yelp for their professional and clean work.
Looking at Pricing, Quality, and Customer Service
When it comes to gutter installations and cleanings, fair pricing is essential. Attention to detail and a commitment to a great job are also important factors to consider. Additionally, high-quality materials and a great warranty on gutter systems provide added peace of mind. Responsive customer service plays a vital role in addressing any issues or concerns that may arise. Ultimately, homeowners should choose a reputable company with a good promise and a legacy of delivering exceptional results.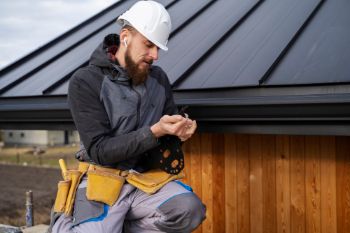 How Often Should You Schedule Gutter Maintenance in Florida?
Regular gutter maintenance is essential in Florida to prevent clogs and ensure proper water flow. Additionally, professional installation of new gutters can provide peace of mind. Promptly addressing minor issues can prevent major problems, and storm flow gutters are designed to handle heavy rainfall in the state. Window washing services can also help keep your home looking its best.
Conclusion
Gutters are crucial for protecting your home from water damage and maintaining its integrity. Consider factors like material, sizing, and design when choosing gutters for your St. Johns County home in Florida. Regular maintenance is essential for their longevity. Understand how the local climate affects your gutters and their relationship with the roof. Also, consider roof maintenance, soffit, and fascia installation for comprehensive protection. When selecting a gutter service provider in St. Johns County, prioritize pricing, quality, and customer service. Contact us today to book a consultation with a reputable gutter service provider and safeguard your home.