Our blog is a comprehensive guide to the latest paint and stucco trends in St. Johns County, FL. We delve into the best colors for your home's exterior and how weather conditions can impact your paint and stucco choices. Additionally, we highlight the importance of hiring professional painters for expert advice and recognizing stucco damage early on to avoid costly repairs. Timely repairs are crucial when it comes to stucco maintenance, and we emphasize this in our blog. Join us as we navigate the world of paint and stucco trends with helpful tips and insights.
Paint and Stucco Trends in St. Johns County
Stay updated with the latest trends in exterior painting and stucco finishes to enhance the curb appeal of your home. Discover popular color combinations and textures for a fresh, contemporary look. Embrace the timeless elegance of neutral color palettes. Find inspiration from local home decor and renovation trends in St. Johns County. Ponte Vedra, Orange Park, and Jacksonville Beach offer a great way to explore different styles. Get a free estimate for your house painting project and consider power washing, drywall repair, and siding options. Choose Sherwin Williams paints for long-lasting results. From Palm Coast to St. Augustine, Fleming Island to Middleburg, incorporating these trends can transform your home.
The Growing Popularity of Natural Tones
Incorporating natural tones, like earthy browns and warm neutral shades, into your home exterior is a great way to create a calming and inviting atmosphere. By opting for exterior paint and stucco colors that blend harmoniously with the surrounding environment, you can embrace the trend of using organic, eco-friendly paint products for a sustainable home exterior. Additionally, choosing stucco finishes that mimic natural materials, such as stone or wood, can add a rustic aesthetic to your home. Consider these natural tones inspired by nature to elevate the look of your St. Johns County home.
Industrial Chic: Bold and Bright Colors
Make a statement with exterior paint and stucco colors in vibrant, eye-catching shades. Experiment with unconventional color choices like bold blues, fiery reds, or vibrant yellows. Add a touch of modernity with industrial-inspired color schemes. Combine contrasting colors for a visually striking and contemporary look. Dare to be different by choosing unique color combinations that reflect your personal style. Enhance the energy and appeal of your home exterior with these bold and bright colors.
Influence of Weather on Paint and Stucco Choices
Consider the local climate and weather conditions when selecting exterior paint and stucco. Choose weather-resistant paints that can withstand the sun, rain, and humidity in St. Johns County. Opt for stucco finishes that provide durability and protection against moisture and temperature changes. Ensure your home exterior is prepared to withstand the Florida climate for long-lasting results. Consult professional painters for expert advice on paint and stucco options suitable for your area.
Choosing Weather Resistant Paints
Invest in high-quality weather-resistant paints that can endure the harsh Florida climate. Opt for exterior paints with built-in UV protection to prevent color fading and damage from sunlight. Look for paints that offer moisture resistance, guarding against mold and mildew growth. Consider elastomeric paint, which can expand and contract with temperature fluctuations. Professional exterior painting services that provide a range of weather-resistant paint options are a great choice.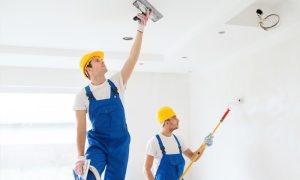 Importance of High-Quality Stucco in Florida's Climate
When it comes to the Florida climate, it's crucial to choose stucco materials specifically designed for this region. Opting for stucco finishes with excellent moisture resistance is essential to prevent any potential water damage. Durability is another key factor, especially in extreme weather conditions. Hiring professional stucco contractors experienced in dealing with Florida's unique challenges is highly recommended. Regularly inspecting and maintaining your stucco will ensure it remains in excellent condition for years to come.
Professional Painters and Their Role in Shaping Trends
Collaborate with professional painters in St. Johns County to stay ahead of the latest paint and stucco trends. Benefit from their expertise in color selection, combinations, and application techniques. Explore innovative painting techniques and designs offered by local artists. Get professional recommendations on color trends that will enhance the beauty of your home exterior. Trust professional painters to deliver exceptional results, transforming your home with quality painting services. They have the knowledge and skills to shape the trends in the Ponte Vedra, Orange Park, and Jacksonville Beach areas, making them a great resource for staying up-to-date with the latest trends.
Expertise in Color Selection and Combinations
Discover the perfect palette for your home exterior with the expertise of professional painters. They can provide personalized color recommendations based on your preferences, trends, and home decor. By relying on their knowledge, you can find color combinations that complement your home's architectural style and surroundings. Take advantage of professional color consultations to ensure a cohesive and visually appealing exterior. Let their guidance help you select colors that reflect your personality and your home's unique character.
Innovative Techniques and Designs by Local Artists
Discover the boundless creativity of local artists specializing in exterior painting and stucco designs. Transform your home's exterior into a work of art with custom-designed paint patterns, murals, or textures that make a bold and unique statement. Collaborate with these talented artists to infuse your home with individuality and inspiration from local artwork. Support the local art scene while enhancing your home's aesthetic appeal. Unleash your imagination and create an extraordinary exterior that showcases your style and personality.
Stucco Repair and Its Impact on Home Appearance
Maintaining the beauty and integrity of your home exterior is crucial, and timely stucco repair plays a significant role. Addressing cracks, flaking, or discoloration on your stucco is essential to restore its original appearance. Hiring professional stucco repair services ensures the use of proper repair techniques and a seamless finish. It also helps preserve the durability and moisture resistance of your stucco through professional repair and maintenance. Don't underestimate the impact of stucco repair on the overall aesthetics of your home exterior.
Recognizing the Signs of Stucco Damage
When it comes to your home's stucco exterior, it's important to keep an eye out for any signs of damage. Look for visible cracks, chips, or flaking in the stucco surface. Pay attention to any discoloration, moisture, or mold growth, as these could be indicators of underlying issues. Observe if there are any bulges, sagging, or areas where the stucco is pulling away from the wall. Additionally, listen for unusual sounds, like hollow spots, when tapping on the stucco. And don't forget to watch out for any signs of water damage, such as stains, inside the home near stucco walls. Don't delay in addressing these issues, as timely repairs can help maintain the integrity and beauty of your home's exterior.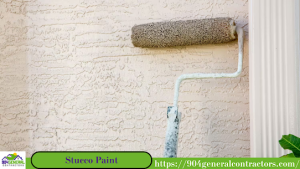 Importance of Timely Stucco Repair
Prompt stucco repair prevents further damage and costly repairs in the future. It helps maintain the structural integrity of the home and prevents moisture intrusion, which can lead to mold growth. Timely repair also enhances the aesthetic appeal of the home, improving its curb appeal. Additionally, addressing stucco issues promptly can help preserve the value of the home and prevent potential resale complications. Don't delay, take action now to protect your investment.
How Are New Construction Homes Influencing Paint and Stucco Trends?
New construction homes are driving paint and stucco trends with their embrace of versatile neutral colors. Stucco provides durability and a sleek exterior, while accents like stucco bands add visual interest. Advances in stucco technology, such as improved moisture barrier systems, have been spurred by its popularity in new construction. Paint trends in these homes often feature earthy tones and eco-friendly options.
Conclusion
To enhance the appeal of your St. Johns County home, stay updated on the latest paint and stucco trends. From natural tones to bold industrial chic colors, there are many options to transform your property. Consider weather-resistant paints and high-quality stucco for Florida's climate. Professional painters offer expertise in color selection, innovative techniques, and designs by local artists. Timely stucco repair is important for maintaining your home's appearance. New construction homes also influence trends. Embrace these trends and give your home a fresh makeover with our expert painting and stucco services. Contact us today to learn more.